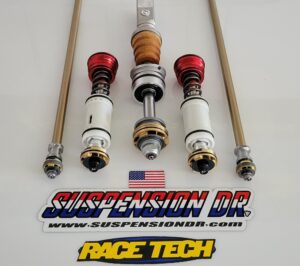 We strive to provide the best in Custom Suspension setups and service possible for motorcycles, both dirt and street. Bob, the owner of Suspension Done Right, does not take the "one size fits all" approach. Rather, he believes that no two people are alike, nor do they want or require the exact same setup. In addition to the rider's weight, height, age, ability, and riding style, each suspension setup is also based on the rider's preference of the level of stiffness that they desire. At Suspension Done Right, we specialize in suspension maintenance, repairs and modifications for dirt bikes, as well as street and adventure bikes. We also sell all wear parts, as well as all modification parts, such as springs, gold valves, bladder conversions, high-volume bladder caps, LSV posts, fork and shock lowering spacers, high performance coatings, and anything else a rider could possibly want or need for their suspension. In addition, we offer many other essential modifications for a truly personalized motorcycle setup with only the industry's best manufacturers. Contact us today for the reliable, expert advice and service you and your motorcycle deserve. Call or email us to request a detailed itemized estimate.
Fork and Shock Service
Your suspension components receive more than just a pump and dump oil change. You can be confident your suspension will work far better after SuspensionDR has serviced your components.
When servicing or modifying our customers' components, it is very important to inspect all parts. In the shock, the shock body, shock shaft, adjusters and clevis/fork, eyelet bearings, bottom out bumpers, bladder, and floating piston wear bands are inspected. Then we rebuild the stock seal head with new shock shaft oil seal, dust seal, and shaft bushing. In the forks, all bushings are inspected and replaced, inner and outer fork tubes, cartridges, and cartridge rods are inspected for damage and/or excessive wear, springs are checked for preload, and the axle clamps are inspected for cracks and damage. After the inspection, your components are cleaned completely and thoroughly, the pistons are re-faced and the shim stacks are checked along with all of the other parts. Then we replace the seals and wipers and any bushings or additional wear parts, if needed. We finish it all off with fluids of the highest quality, adjust the spring preload, if needed, and set the compression and rebound adjusters.
All parts that have been replaced are returned to the customer. At SuspensionDR we take extra time to treat your suspension as if it were our own and make sure your suspension receives the attention it deserves. In addition, SuspensionDR sends pictures of your project so you can see what has been done to your components.
Please note regarding valving – We do not offer shim shuffles on stock pistons. We only install Race Tech gold valves. All stock valving and pistons are poured onto a zip tie and given back to our customers. Would you rather buy time or hard parts? Shim shuffles = time. Gold valves = parts & results.
We strongly believe one cannot properly repair or improve upon anything that one does not fully understand all aspects of how it functions.
SKILLED LABOR IS NOT CHEAP AND CHEAP LABOR IS NOT SKILLED.